Publications
Since 1997, I have been an author, co-author and ghost writer with several published articles in magazines, business journals and other trades, as well as books and e-books. All of my writings are rooted in sharing thought-provoking ideas, alternative views and proven techniques to bring about practical grounded abundance via efficiency and effectiveness in a myriad of areas. Through this, it is my hope that people and businesses may get back some of their time, save money and gently awaken to restoring humanity and life vitality. Sneak a peek at a few publication samples below.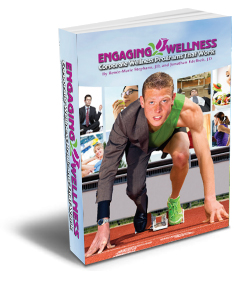 "Engaging Wellness: Corporate Wellness Programs That Work"
Lynne M. White wrote a section of Chapter 16 tilted, How Personality, Generational, and Gender Styles Dictate the Design, Selection, Implementation and Management of Wellness Programs for Increased Corporate Performance.
Prevention, health and wellness are among the most crucial topics employers should focus on to improve their workforce's health, maximize productivity and controlling rising healthcare costs. In the current economic climate promoting employee health and wellness and managing healthcare costs are intertwined and more important than ever. Lynne was one of 50 industry experts providing insights on how to successfully implement, operate and measure a corporate wellness program including successful case studies from small, mid-sized and large employers. The book teaches how to engage and motivate employees to become active in their health, and with other valuable insights. (Published: October 2012)
"This book details the must haves, including effective incentive strategies, bio-metric screenings, chronic condition support, workplace culture, defining/measuring success and more. The secret to success is how you design these features to motivate your unique workforce, impact your company's specific challenges and your vision for success." -Tami Graham, Global Benefits Design Director, Intel

Learn More or Buy The Book
---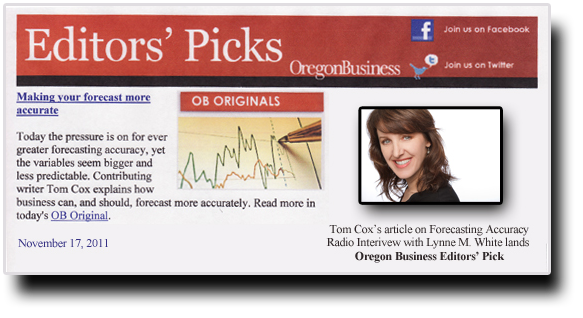 "Making Your Forecast More Accurate"
Tom Cox, host of Tom on Leadership, conducted a radio interview with Lynne M. White on "What every business forecast should include, but DOESN'T!" The content from that interview was condensed into an article Tom wrote for the Oregon Business Magazine that received the Editor's Pick in November 2011.


Read Article
---


"Your Buyer Has Changed: 4 Steps to More Profitable Buyers"
The reality is the business landscape has changed in every way from alliances to product to technology to buyer knowledge. This article defines 4 steps to more profitable buyers by exploiting one of the most costly, overlooked revenue generating and profitability mistakes in corporate America today.


Read Article
---



"It's Time for Positioning"
In a strained economy businesses tends to quickly retaliate into a survival mode that immobilizes every critical aspect of their business. When, in reality, companies should be positioning for their future. This article explores key strategies for positioning your company during turbulent times.


Read Article
---


"The Importance of CRM in Organizations…and the Internet"
How much money does your organization spend to get, grow, and keep each customer? Are you leveraging all aspects of your enterprise to grow a customer? This brief article explores the challenge of how to positively impact your customer relationships, while increasing your organizations profitability.


Read Article
---


"Optimizing Rate Plans and Leveraging Customer Care"
Take note of this case study in an implementation strategy that leverages rate management as a customer oriented function, not a billing function.


Read Artilce
---



"Evolution of the Digital Age"
Many firms are seeking ways to take advantage of the Internet and stake their digital claim by engaging in eBusiness projects to create new revenue streams, reduce costs, automate business processes and integrate back office, for example. This article define a firm's eBusiness evolution as the transition through three phases. Co-authored with David Richardson.


Read Article
---


"How Do You Present Your Company During an Interview"
Even once a qualified professional is located, many companies fail to conduct effective interviews and sell their corporation and opportunity to perspective employees. In this article, Ms. White shares the most effective ways to attract and sell the professional community on your firm through word of mouth and first impressions.


Read Article
---


"How to Retain Your Employees"
As employees experience burn¬out, lack of career opportunities, substandard training, organizational atrophy, diluted compensation, and lack of organization direction, corporations must now be creative in retaining their employees. This article explains a few ways to reduce employee turnover and retain employees.


Read Article
---
You may learn more about my experience and accomplishments at:
---