Welcome
Are you tired of the chess game of life and/or business?
Not sure which piece to move where?
Are you in offense or defense mode?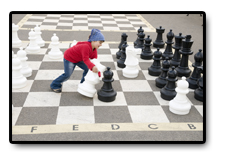 Grounded in truth, accountability and fun, I work with individuals, groups and businesses toward living greater degrees of health and productivity, accessing their magic and finding their voice in their life and/or business.
Choose from individual advising, group advising, business advising or business consulting in any combination or separate, to whatever depth and pace you decide.

Individual Advising
Are you in the middle of a life transition? Maybe you are wanting more work/life balance? Perhaps you just want to be more grounded? You may be sensing a shift for yourself, but not be quite sure what it is, where to go or how to process through it? Do you need a little support moving through life patterns that don't serve you anymore? Are you stuck or not sure where to get started? Perhaps you are just tired of chaos and are seeking a simplier way of life?
Group Advising
Is your group struggling to play nice in the sandbox? Are they throwing toys, picking fights or pulling hair? Is communication slipping into the gossip abyss? Maybe you just see a greater potential and ache to take them there? Perhaps you are searching for ways to improve group communication, collaboration and/or productivity?
Business Advising
Are you launching a business and not sure what to do or how to do it? Is your business barely surviving or struggling? Is your team cranky or the walking dead? How healthy and efficient are your systems? Ready for the next level of growth? Are you stuck or not sure where to get started? Maybe you want to tighten up the foundation before a growth spurt? Perhaps you are just tired of all the chaos?
Interested in exploring if my expertise may support your effort?
Call me direct at 503-716-6485 or set an appointment now
for a free 15-minute introductory call.